Hello and welcome!
Great news! Book 2 in A Warrior's Passion Series by one of my fave authors, Natasza Waters just released.
The only thing stopping Navy SEAL Josh Hunter from igniting the embers between him and Dixie is the psychopath hunting her.
Dixie's fresh start in San Diego eclipses into a nightmare. Not only does she have to deal with a stalker who's been on her tail for years, but the man who broke her heart strides into her shop hotter, broader, and braver than she remembers. Dixie has two choices: Run or make a stand with the man she nearly married.
Josh drops by the Erotic Bean for a cup of java and finds Dixie Hammond behind the counter. Their reunion goes as expected. The unforgettable spitfire orders him out of her shop. Emotions aside, she needs his protection. With Alpha Squad's help, Josh removes his combat boots and hunts his target as a civilian. Something he's willing to do for the woman who heats his body temperature to boiling.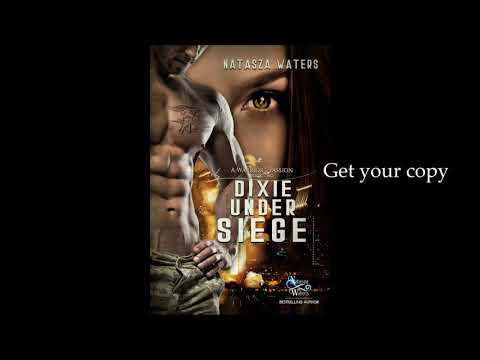 Sounds good, doesn't it? I've been looking forward to reading their story ever since I read book one. If you remember I had the hero from book 1, Cricket Under Fire, for a chat about a year ago, if you missed it, check it out here. Will Josh become one of my BBF too? I have no doubt
1-click


If you have not read it yet, you are in luck, book 1 is on sale for a limited time.
Buy links
Amazon US • Amazon UK • Amazon AU • Amazon CA • B&N • Kobo • Apple
Author Bio
Writing has always been a passion. I spent thirty-four years with the Coast Guard, but retirement recently called, and I answered. I'm blessed to live on the west coast with my husband who also spent his career in a technical field. No more shift work or long separations from the family for me, and he's stopped flying to the four corners of the world. There's a great hum of contentment around our homestead. He's also my sounding board when writer's block strikes.
Crafting stories with pieces snipped from real life gives depth to a novel. Of course, action, suspense and romance is the goal of keeping readers entertained. Three of my books have been honored with awards, and that's always a welcome pat on the back, but it's folks who love to read and their reviews that offer the QA authors look for.
When I'm not attached to my keyboard, the husband and I love to camp. We travel in a forty-foot fifth wheel for long hauls, and what we affectionately call the Wiener Wagon, a twenty-two-foot travel trailer for…you guessed it, roasting wieners and short hauls.
Life truly does pass by at warp speed. Make the most of it. Smile. Laugh. And read books, because there's no better vacation than the journey you take in your favorite chair with a good story.
To learn about all the books, and keep in touch with Ms. Waters, follow the links.
website • Facebook • Twitter • Goodreads • youtube •
Until next time read a book, listen to a book and don't forget to show your love by leaving a review!