Hello and welcome!
Check out the chat I had with another of the heroines from the anthology.
Welcome! Welcome!
What is your full name?
Camilla Marie Ambrogi
Do you have a nickname?
Cami
What is one word best describes you?
Loyal
Describe what you are wearing now to our readers.
Black dress and heels, that are not so pretty anymore.
Do you think the author portrayed you accurately?
Yes I didn't give her a choice.
What makes you laugh out loud?
These tough alpha males trying to boss me around.
What is your favourite dessert?
Cannoli filled with chocolate.
What is your favourite drink?
Nice pinot
What is your greatest fear?
Losing a patient
What is your favourite colour?
Purple
What do you wear when you go to sleep?
Tank top and shorts
What is the perfect romantic date?
Dinner and a walk through the park, something intimate.
How ticklish are you? Where are you ticklish?
Super ticklish and all over.
What's your favourite smell?
Rain
What does it remind you of?
Freshness
When you look at a man what catches your interest?
His eyes, they tell you so much.
Do you have somebody in your life now?
Yes quite unexpectedly.
What is one word best describes him?
Alphahole
Is your book part of a series?
No
What does the future hold for the readers of the series?
Not sure yet, maybe will get my own series if I have my way.
Thank you for chatting with me, I am looking forward to reading your story.
~~~~~~~~~~~~~~~~~~~~~~~
I hope you enjoyed the chat.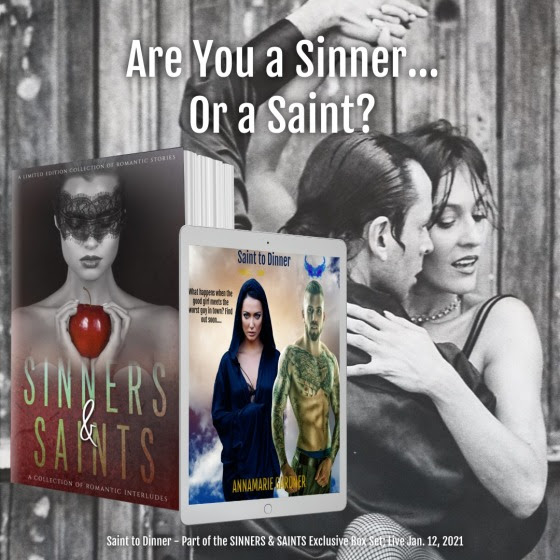 Her story is Saint to Dinner by AnnaMarie Gardner, a new author for me.
As the police chief's daughter, I know I'm safe. However, when I have a run in with the mob, things change. So what happens when a Saint and Sinner combine? Find out what happens when you bring a Saint to Dinner.
Author Bio

AnnaMarie Gardner is a wife of 19 years with two incredible children. When she was younger, she found a love of the written word through poetry. While raising her family, she sadly stopped writing. Now that her children are in school she has found her way back to the written word. She not only writes poetry but has also started her sojourn into short stories. You can also see her writing many original stories during live writes. AnnaMarie beta read for several years before she decided to stretch her wings and rejoin the incredible world of writers.
~~~~~~~~~~~~~~~~~~~~~~~~~~~~~~~~~~~~~~~~~~~~~~~~~~~~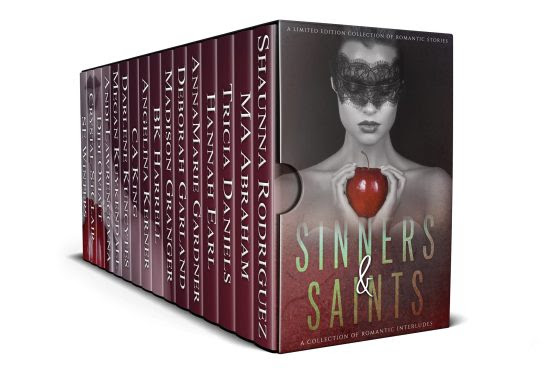 Preorder now!
The amazing and wonderful authors from the 'Sinners & Saints' anthology have cooked up something extra special for all y'all! You're getting a bunch of goodies and stories for just .99!
You know what… them Sinners want to thank all you Saints for pre-ordering your copy of SINNERS & SAINTS – 15+ Sinful Stories at a Saintly price!
It just takes 3 easy steps!
and 2. Do your happy dance after you pre-order SINNERS & SAINTS from B&N, Apple, and/or Amazon for just $0.99 (click on the banner above)
3. Go to HERE to claim you FREE bonus material!
Check out the beautiful trailer here.
COME BACK next Friday for Chat # 13 !
Until next time, happy book reading / listening and don't forget to show your love by leaving a review!